Established nearly three decades ago, MTN Ghana has steadily risen to position itself among the most reliable telecommunications companies in the country. Some Ghanaians would rank MTN Ghana as the best telecommunications company in Ghana, due to their experiences with the company.
MTN Ghana, by dint of hard work and consistent reliable performance, has amassed a large following, surpassing its competitors in subscriber count. An NCA 2022 report showed that Telco achieved 63% of the mobile voice share market, 72% for mobile data, and 78% of the 4G operator's market share. It remains the telecom market leader in Ghana
While customers are a big part of these achievements, MTN Ghana also owes its success story to its staff, and its leaders, who have steered the company to its current position. The company has proven itself to be gender-inclusive, from using a female voice for its famous "Y'ello" greeting message to having five of its 11 Board of Directors being women.
The Big Five
Ms Rosie Ebe-Arthur – Independent Non-Executive Director
A woman who's built up an impressive career in human resource management over the past 25 years, Ms Rosie Ebe-Arthur has a distinguished educational background, having graduated from Wesley Girls High School, Tema Secondary School, the University of Cape Coast, and the University of Westminster, UK. Her academic journey reflects her hunger for knowledge and a foundation for her subsequent professional achievements.
Within her illustrious career, she has held pivotal roles in various esteemed organisations. Her leadership career began as the HR Business Manager at Ecobank, contributing to the organisation's success through effective human resources management. Her leadership journey continued to Standard Chartered Bank where she served as the Head of Human Resources in 2011. By 2018, she was the bank's Head of Human Resources in Nigeria and West Africa. She demonstrated her proficiency in managing complex HR landscapes in Nigeria, Ghana, Cameroon, Sierra Leone, CDI, and The Gambia.
Recognising Ms Ebe-Arthur's capabilities, First Bank Nigeria Ltd. and its subsidiaries offered her a position as Group Head of Human Resources in 2018, where she served till 2022, showcasing her strategic acumen in shaping the human capital landscape. In addition to her work at MTN Ghana, Ms EBE-Arthur is also a Board member at FBN Ghana and manages her firm, RE-HR.
These diverse service and leadership experiences underscore Ms. Ebe-Arthur's comprehensive understanding of human resources management, strategic leadership, and her ability to drive positive organisational change. Her work has had her recognized as a Chartered Fellow of the Chartered Institute of Personnel Development (CIPD),
Her journey from banking institutions like Ecobank and First Bank Nigeria Ltd. to her impactful roles at Standard Chartered Bank reflects her dedication to advancing HR practices and contributing to the success of each organisation she has been part of.
Nana Ama Botchway – Independent Non-Executive Director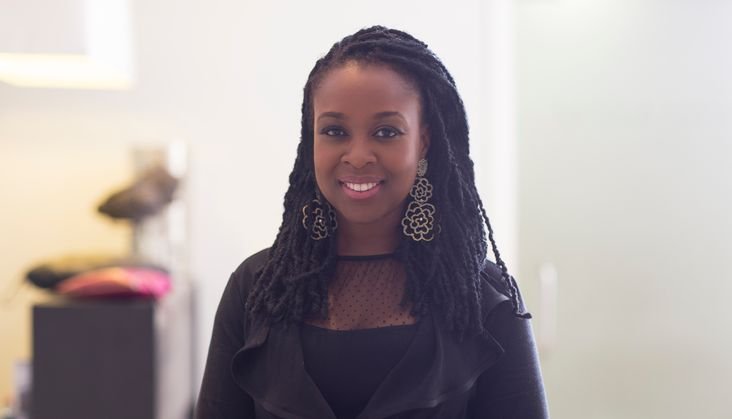 Nana Ama Botchway holds degrees from prestigious institutions such as Princeton University, NYU Stern School of Business, and Columbia Law School. With a legal career spanning over two decades, Ms. Botchway has cultivated a wealth of experience and expertise that has defined her journey as a legal practitioner.
Her professional journey commenced in 1992, as an auditor at Deloitte & Touche in the United States, laying the foundation for her illustrious career. Ms. Botchway has further refined her legal prowess by serving as an associate in renowned New York law firms, including Simpson Thacher & Bartlett LLP, and Cooley LLP.
Returning to Ghana, Ms. Botchway has held leadership positions in prominent entities, leaving including the Ghana Petroleum Fund, miLife Insurance, and Ghana Airports Company Limited. Her commitment to excellence and strategic leadership has been consistently demonstrated throughout her career.
In March 2021, Ms. Botchway added another milestone to her journey with her appointment as an Independent Non-Executive Director at MTN Ghana. In this role, she leverages her legal insight to contribute significantly to the telco's governance and strategic decisions. She's also a Committee Member of the Ghana PPP Complaints Committee and manages her own law firm, n. dowuona & company, which she founded in 2011. This is proof of her entrepreneurial spirit.
When she's not out winning cases or offering strategic advice, Ms. Botchway finds joy and balance in various pursuits. A woman of diverse talents, she enjoys singing, playing tennis, and expressing her creativity through painting.
Tsholofelo Molefe – Chief Financial Officer (CFO)
A seasoned financial executive, Tsholofelo Molefe has worked in finance for over 20 years, garnering an enviable wealth of experience. She is a graduate of the University of South Africa, where she received a Bachelor's Degree, Accounting. She also attended the University of East London, UK, attaining a Bachelor's Degree, Accounting and Finance.
Complementing her strong academic background in finance, Tsholofelo holds a licence from the South African Institute of Chartered Accountants, reflecting her commitment to professional excellence.
Tsholofelo's professional journey began in 2001 with foundational roles as an auditor and Risk Manager at ABSA Bank, in the Johannesburg Area, SA. She spent nearly four years at ABSA, diligently examining financial documents, and looking out for any areas where the bank could be put at risk.
Before assuming her position as Chief Financial Officer (CFO) at MTN in 2021, Tsholofelo served as CFO at Telkom SA SOC Ltd, a position preceded by a remarkable tenure at Eskom Holdings, where she spent nine years and ascended to the position of Finance Director in 2014.
At MTN, Tsholofelo has brought her extensive financial acumen to the forefront. With her financial management and risk management skills, Tsholofelo Molefe stands as a visionary financial leader, steering MTN with strategic foresight and a commitment to financial excellence.
Fatima Daniels – MTN Group Non-Executive Director
Fatima Daniels stands as a seasoned finance executive with a distinguished career spanning several decades, marked by her invaluable contributions to corporate finance and strategic leadership. Her wealth of experience ranges from serving in regional and corporate finance to being a general manager of telecommunications.
As a member of the South African Institute of Chartered Accountants, Fatima embodies the highest standards of professional excellence. Her illustrious career is marked by extensive boardroom experiences, starting as early as 1995, contributing to the governance and strategic direction of JSE listed companies.
Among her notable directorships, Fatima serves as a non-executive director at MTN and its subsidiaries, where her financial advice and strategic insights have played a crucial role in the company's trajectory. She also holds board positions at Momentum Metropolitan Holdings Ltd, Clicks Group Ltd, Rand Refinery (Pty) Ltd, and AfriSam South Africa (Pty) Ltd, reflecting her resourcefulness and leadership skills across multiple industries.
Fatima Daniels is recognised not only for her financial expertise but also for adeptly navigating the landscapes of JSE listed companies. Her visionary leadership and strategic governance have made her an invaluable asset to the boards she serves on, and to MTN, contributing to the success and sustainability of these prominent entities.
Pala Asiedu Ofori – Board Secretary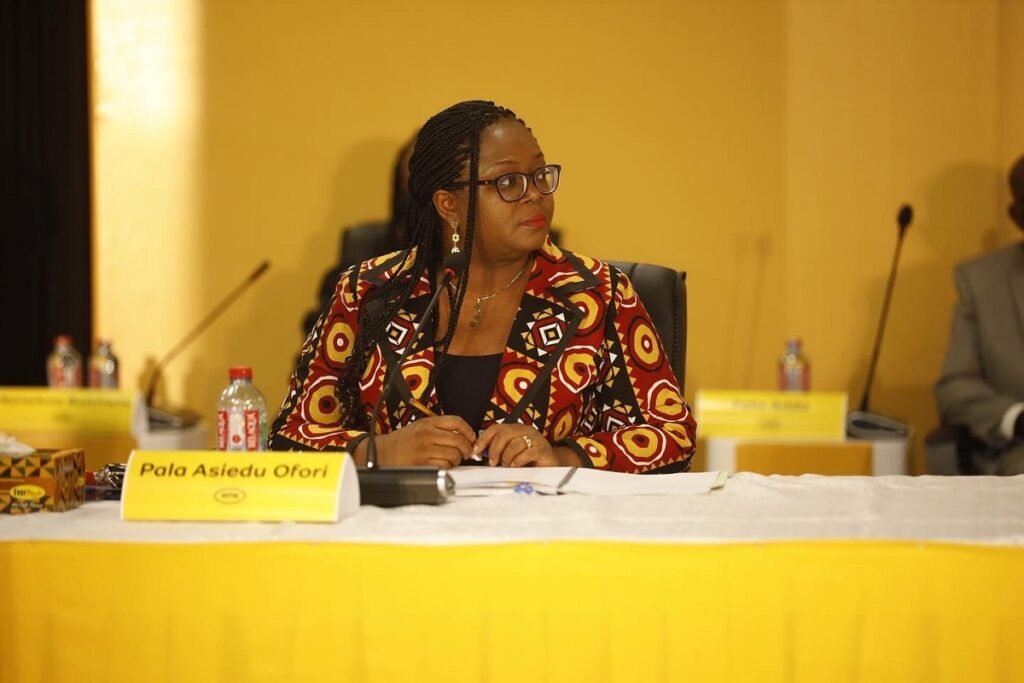 Pala Asiedu Ofori, a distinguished lawyer and graduate of Wesley Girls, the University of Ghana, Ghana School of Law, and the University of Cape Town, stands as a prominent figure in the legal landscape, with two decades of experience in her practice.
With a foundation in corporate, commercial, telecommunications, and labour law, Ms. Ofori has proven herself a self-motivated, confident, and innovative woman. Her journey with MTN Ghana commenced in 2005 and has been characterised by unwavering dedication and a commitment to excellence. Over the span of 18 years, she has ascended to the position of Senior Manager, Commercial Legal, and Company Secretary, playing a pivotal role in the legal and corporate governance aspects of the telco.
Pala Asiedu Ofori balances her professional pursuits, with motivational speaking at the Springboard Road Show. Her passion for uplifting others is evident in her voluntary contributions as a speaker for nearly seven years. Through this platform, she has empowered individuals to plan for personal, professional, financial, and socio-political leadership, leaving a lasting impact on those she has engaged with.
Conclusion
As leaders, mentors, and contributors to their respective fields, these women have not only broken gender barriers but have also paved the way for future generations of female leaders. Their achievements are a testament to the transformative power of education, self-dedication, and commitment to excellence.
By Derrick Kafui Deti – Digital Economy Magazine
Do you have a story that you think would interest our readers? Write to us info@instinctwave.net/ copata@instinctwave.com or WhatsApp +233 594860226