Internet exchange points (IXPs) are the lifeblood of the internet ecosystem and are key to unlocking the potential of a digital, connected Africa. They play a crucial role in enhancing connectivity for individuals and businesses and promoting economic growth.
However, in Africa many individuals and entities suffer the consequences of connecting to internet traffic that takes convoluted routes across distant locations before reaching them, which leads to exorbitant costs and sluggish internet connections.
As an emerging market, the challenge in Africa is not only establishing the necessary infrastructure but also strengthening the capabilities to operate and maintain these IXPs, according to Open Access Data Centres CEO Dr Ayotunde Coker. The company is building data centres across Africa and is part of the Wiocc Group, a connectivity leader on the continent.
It is estimated that an increase of 10% in broadband penetration yields a staggering increase of up to 2.5% in GDP
He says at one time, IXPs didn't exist and neither did the data centre sophistication we see today. "With the advent of the internet, if users in Africa wanted access to content, their requests would have to route all the way to Europe or New York using undersea cable connectivity, or even more slowly, using satellite. And the information would have to come all the way back again, meaning that the lack of local peering made the internet very inefficient and expensive."
As an analogy, Coker says: "Imagine if you needed to send a letter across the road from you and to do so, the Post Office would have to send the mail to a clearing point in London. You would have to pay all the shipping costs to get it there by air or sea, and then pay for it to come all the way back to the Post Office to you, to give to someone right next door. It was insane."
Leading the charge
Currently, the countries that are leading the way in terms of IXPs and data centres are South Africa, Nigeria and Kenya, with Egypt and Morocco starting to emerge, too.
"We've seen internet exchanges growing right across the world over the last few years. There are big exchanges in London, such as Linx, there is NLIX in the Netherlands, and the Amsterdam Internet Exchange (AMS-IX)."
In South Africa, we have Jinx in Johannesburg, Cinx in Cape Town and Dinx in Durban. We also have the Internet Exchange Point of Nigeria (IXPN), which is the regional internet exchange point for West Africa, with more than 80 active networks, and the Kenya Internet Exchange Point (KIXP).
All of these are facilitating the localisation of data and stopping this sort of "tromboning" of data being sent across the world. This is crucial for economic growth because the more efficient internet we have, the lower the cost, which is better for everyone.
There are also peering arrangements within exchanges, made between internet service providers (ISPs) who own and maintain internet backbones: having multiple exchanges allows more efficiency depending on the peering points, Coker said.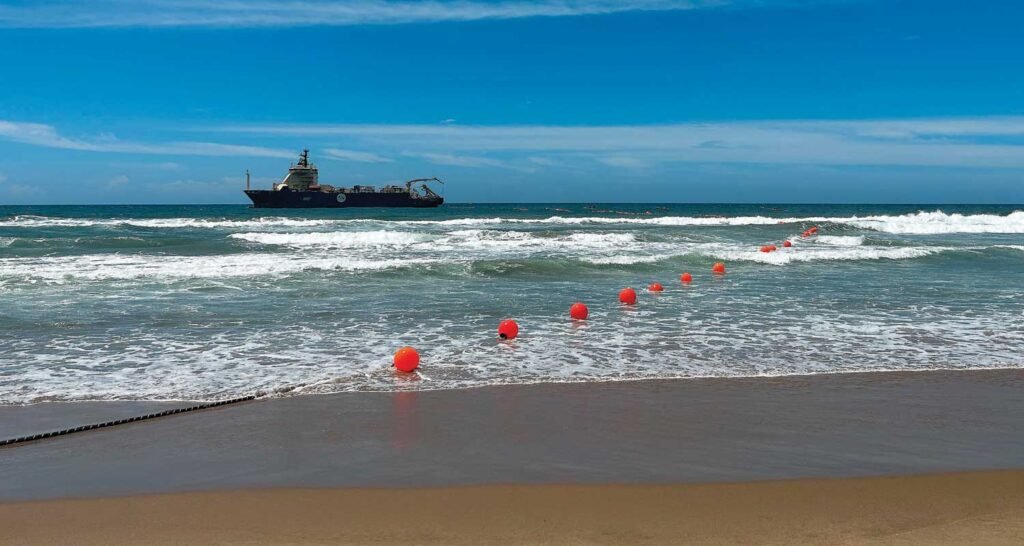 In large countries, if there is one ISP at a location that is a substantial distance from the peering point in the data centre, users will experience latency and a delay in the transmission of data. In these circumstances, it makes sense to then have another internet exchange at that location, as this drives efficiency.
"If we look across Africa, there are more IXPs starting to come through. As we see larger data centres emerging, those internet exchanges will need to go into these facilities and enable peering across the growing number of customers. However, these are not as prevalent as you might think across different countries in Africa. They may be very small exchanges that allow lower levels of peering, but it is growing, and we will see more IXPs in African countries."
The availability of transit is also helping a digital Africa reach its connected vision. "We've had many more undersea cables coming in. There has been growth on the west coast with the ACE cable, and Wacs that provides more African connectivity to Europe on the west coast. There's also the Equiano cable, connecting Portugal, South Africa, Namibia, Nigeria and more, with massive capacity, and other countries will benefit, too."
Meta's 2Africa cable will traverse the eastern and western coastline in the next 12-18 months.
This is important for the internet fabric and for each country across Africa. It is estimated that an increase of 10% in broadband penetration yields a staggering increase of up to 2.5% in GDP, particularly in less mature emerging markets.
A true game changer for a digital Africa
"We are also building edge data centres and focusing on implementing a core-to-edge architecture that enhances application performance by bringing data, content and applications closer to end users.
This groundbreaking deployment is the first of its kind on the continent, integrating hyperscale networks with storage and application hosting in a wide range of edge locations. The advantages for OADC's clients are tremendous, particularly when it comes to processing massive volumes of critical data locally before transmitting it to larger facilities.
It also minimises latency and enhances the end-user experience.
These edge facilities will help clients who are transforming their infrastructure deployment strategies and will help them optimise networking and storage costs by processing data locally. "It's a game changer. We are actively driving internet exchange interconnect to more vibrant locales in the country, making it even more efficient and accessible in South Africa."
Considering how load shedding is a key issue right now for a small to medium-sized ISP, Coker says when the power goes down, the internet stops working. But the world shouldn't stop because of load shedding. "What we're able to do is aggregate these players into our data centre. We will worry about the power and internet connectivity that they need. We are an open provider of connectivity, and we are absolutely transforming the face of edge data centres across the country.
"This combination of connectivity, internet exchanges and data centres we refer to as converged open digital infrastructure. It's a very compelling proposition, and a lifesaver for small businesses," he said.
"It will have a tremendous impact on economies, in South Africa, and then stretched across the continent, as it will drive vibrant, interconnected ecosystems, promoting enhanced regional collaboration, improved access, and will fuel opportunities for content providers, businesses and enterprises to really thrive in an interconnected digital ecosystem," Coker said.
About OADC
Open Access Data Centres (OADC), a Wiocc Group company, was established to transform the provision of data centre services for Africa. The company is rapidly implementing a world-class, carrier-neutral, pan-Africa data centre footprint that will deliver an unparalleled client experience, offering expert assistance and support, partnership in tailoring bespoke solutions and leading-edge information systems to support client business decision-making. OADC is deploying its open-access, Tier III hyperscale data centres at major cable landing locations and in key business hubs throughout Africa.
OADC edge data centres are also being deployed into smaller locations, serving the ongoing need to support service providers in extending network reach, and the growing requirement for content storage, processing and delivery at the network edge. OADC is an environmentally responsible company and as such is pursuing a wide range of environmental and management accreditations.
About Wiocc Group
Wiocc Group is the parent company that sits above each of the group companies, which currently comprise Wiocc and OADC. The Wiocc Group is pioneering and accelerating Africa's digital transformation. It is creating an environment in which all Africans can take advantage of world-class technology developments to build better lives, better businesses and a better world. It is achieving this by deploying converged open-access digital infrastructure across Africa; infrastructure that will expedite and underpin Africa's digital transformation. For more, visit OADC on LinkedIn or Twitter.
Source;Open Access Data