Highly rated tech magazine, TechBerg has unveiled Ghana's Minister for Communications and Digitalization, Mrs Ursula Owusu-Ekuful, as its Woman in Tech Wednesday (WTW).
WTW, one of the most high-profile tech personality ratings is a weekly review and rating of female tech personalities across the globe. It's a special publication based on critical analysis and facts in the tech space.
As the Minister of Communications, she has oversight of the government's infrastructure programme for the ICT Sector, the development of a robust framework to support the digitalisation of the economy and the scaling up of e-government services with national broadband and total connectivity for the unserved and underserved at the heart of the agenda.
She is passionate about supporting the local tech start-up ecosystem, nurturing the development of indigenous technology and encouraging women, children and persons with disabilities to engage in ICT.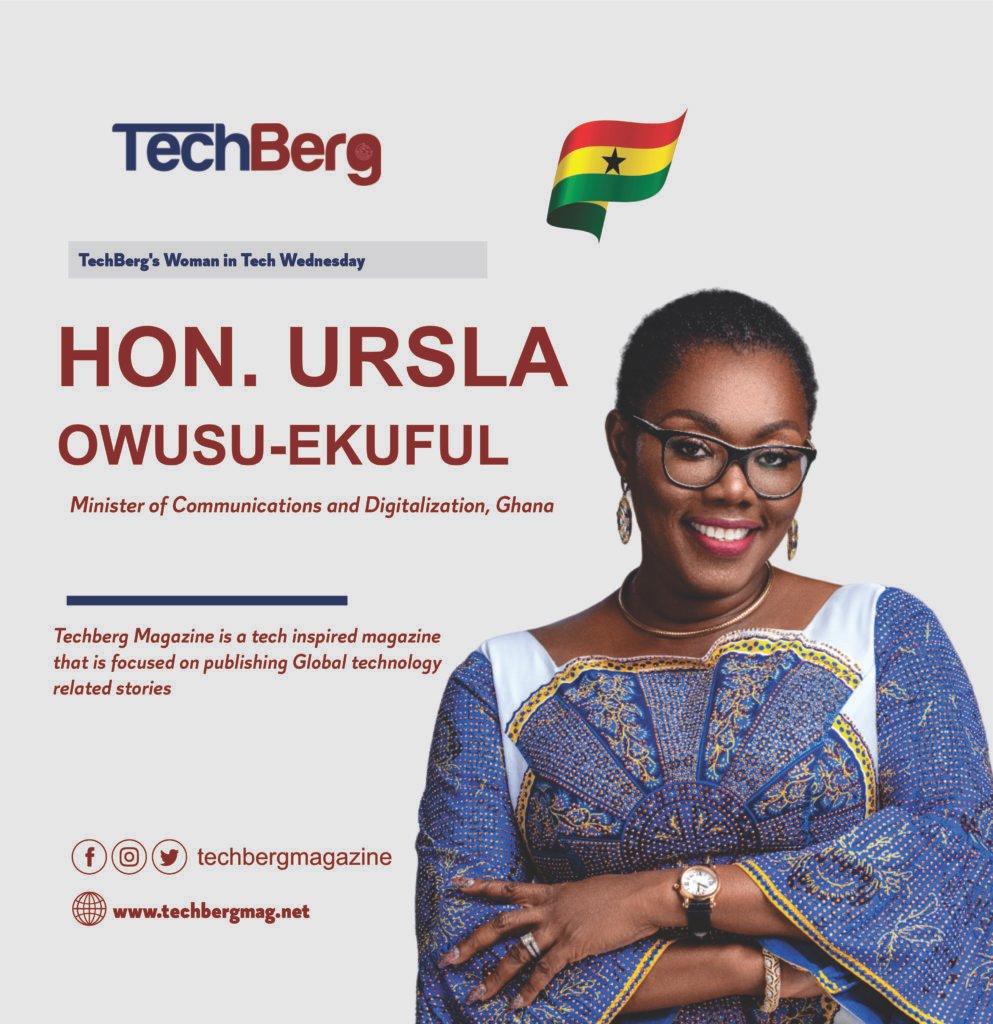 Mrs Owusu-Ekuful holds a certificate in Government Integrity from the International Law Institute, Washington DC, a Project Management and Planning Certificate from Ghana Institute of Management and Public Administration and a Masters in Conflict Peace and Security from the Kofi Annan International Peacekeeping Training Centre. She is a lawyer, women's rights activist, technology advocate and a product of the University of Ghana and The Ghana School of Law. She was called to the Ghana Bar in October 1990.
She has worked for 10 years as an associate at Akufo-Addo, Prempeh & Co., Legal Practitioners and Notaries Public. From Sept 2005 to May 2008. She was the acting Managing Director, Western Telesystems (Westel), and from May 2008 to January 2009, became the Corporate and External Affairs Director, ZAIN Ghana.
Recognitions
• 'Crans Montana Forum' S Gold Medal, at its 30th anniversary forum held in Geneva, Switzerland. She joined the late former President of Ghana, Jerry John Rawlings and Former UN Secretary General, Kofi Annan as the only Ghanaians to have received the coveted award.
• Awarded by the International Federation of Women Lawyers (FIDA), a Non-Profit Organization of women lawyers for her tremendous work in the protection of the rights of Women and Children.
• Recognized for her exceptional commitment and participation as a valuable partner in ITU Telecom World.
No doubt, Mrs Owusu-Ekuful's efforts and giant strides in advancing the digital agenda of Ghana will continue to produce positive results for the development of Ghana's economy.