By Akin Naphtal
The digital economy is constantly evolving, with new technologies and platforms emerging rapidly. In order to stay ahead of the curve, businesses need to keep up with the latest trends and developments in the digital space.
From the growth of mobile commerce and its impact on businesses and consumers to the rise of artificial intelligence and chatbots and their potential applications in the digital economy, the world is far beyond what anyone could have thought 20 years ago.
In this report, we will take a look at some of the key trends and changes in the global digital economy, along with some key technological and economic development currently shaping the world.
A Review & Update On Global Digital Economy in 2022
1. The Growth of Mobile Commerce
One of the most significant trends in the global digital economy over the past year has been the growth of mobile commerce. The total share of retail commerce sales (across the entire retail e-commerce industry) has gone from 52.4% in 2016 to 72.9% in 2022.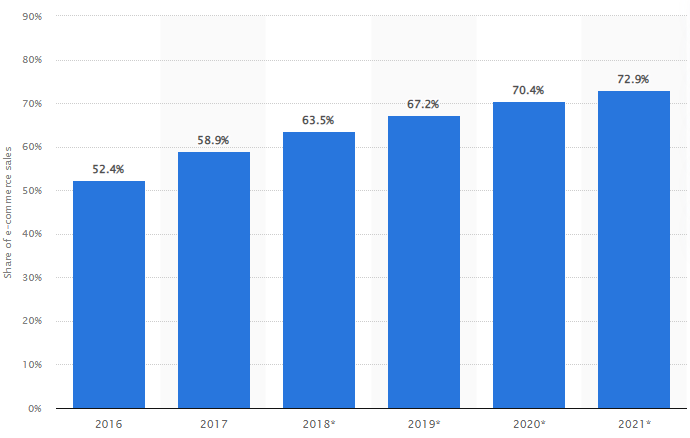 According to the latest analysis, global mobile commerce sales reached $359.32 billion in 2021 (a 15.2% increase from 2020). By 2030, the sales growth is expected to be well over $728.28 billion. This represents a compound annual growth rate (CAGR) of 11.35%.
This growth is being driven by several factors, including the increasing adoption of smartphones and other mobile devices, as well as the growing popularity of apps and mobile-optimized websites.
Furthermore, businesses are increasingly investing in mobile-friendly features such as click-to-call buttons and One Touch payment systems, making it easier for consumers to purchase on their smartphones.
The growth of mobile commerce has significantly impacted both businesses and consumers. For businesses, it has meant an increased focus on developing mobile-friendly websites and apps that can cater to the needs of consumers who are increasingly using their smartphones for shopping purposes.
For consumers, on the other hand, it has meant greater convenience and flexibility when shopping online. They can now shop anytime and anywhere they want without having to worry about whether or not the store offers a desktop version of its website.
2. The Rise of Artificial Intelligence (AI) & Chatbots
Artificial intelligence (AI) is another key trend that is shaping the global digital economy. AI is a complex bit of technology that enables computers to learn and work independently without human intervention. Chatbots, on the other hand, are an extension of said technology. They are a type of AI commonly used to simulate human conversation.
According to a report by Gartner, chatbots will become the primary customer service channel for over 25% of organizations by 2027. However, at the same time, 54% of respondents in a survey in February 2022 showed that they were using some form of a chatbot on their website.
One of the most notable examples of a chatbot that is currently being used in the digital economy is Microsoft's Zo. Zo is a chatbot that was launched in 2016 and is currently available in over 50 countries. Zo can understand natural language and hold conversations with users. It is also able to learn from these interactions and improve its ability to communicate with people over time.
On the other hand, the global AI market is expected to grow from $24.1 billion in 2028, registering a CAGR of 24.4%. This growth is being driven by the ever-increasing adoption of AI across a range of industries and the availability of new AI applications.
3. Blockchain Technology
Blockchain technology is another key trend that is shaping the global digital economy. Blockchain is a type of distributed ledger technology (DLT) that allows for secure, transparent, and tamper-proof transactions. It is often referred to as the "internet of value" because it has the potential to revolutionize how we exchange value, whether it be money, goods, or services.
One of the most notable examples of blockchain technology is the cryptocurrency Bitcoin. Bitcoin is a decentralized digital currency that uses blockchain technology to facilitate peer-to-peer transactions. Bitcoin was launched in 2009 and has since grown to become the most valuable cryptocurrency in the world, with a market capitalization of over $100 billion.
While blockchain technology is still in its early stages of development, it has already begun to impact the digital economy in a number of ways. For example, IBM has announced plans to use blockchain technology to create a global food tracing system that will help to improve food safety and reduce waste. In addition, Microsoft has partnered with ConsenSys to launch a blockchain-based identity system that will give people more control over their personal data.
4. The Growth of the "Sharing Economy"
The sharing economy is another key trend that is shaping the global digital economy. It refers to the collaborative consumption of goods and services, often facilitated by online platforms. One of the most notable examples of the sharing economy is Airbnb, an online platform that allows people to rent out their homes to travelers from all over the world.
The sharing economy has grown significantly in recent years, with the global market for sharing economy services expected to reach $335 billion by 2025. This growth is being driven by a number of factors, including the increasing popularity of collaborative consumption, the rise of the gig economy, and the growth of the sharing economy in emerging markets.
5. The Rise of Augmented Reality and Virtual Reality
Augmented reality (AR) and virtual reality (VR) are two other key trends that are shaping the global digital economy. AR is a technology that allows people to interact with digital content in the real world. VR, on the other hand, is a technology that allows people to immerse themselves in digital environments.
Both AR and VR are currently being used in a number of different industries, including gaming, entertainment, healthcare, and education. In addition, there is a growing trend for businesses to use AR and VR for marketing purposes. For example, IKEA has released an app (IKEA Place) that allows users to experience what it would be like to live in an IKEA-furnished home.
6. The Growth of the Internet of Things
The internet of things (IoT) is another key trend that is shaping the global digital economy. The IoT refers to the interconnectedness of physical devices, vehicles, buildings, and other objects that are equipped with sensors and software that allow them to collect and exchange data.
There are a number of different applications for the IoT, including smart homes, smart cities, connected cars, and the industrial internet of things (IIoT). The IoT is already having a significant impact on the global economy and is expected to generate up to $11.1 trillion in value by 2025, according to McKinsey Global Institute.
The Global Digital Economy is Primed for Growth
The global digital economy is being shaped by a number of different trends, including the growth of the sharing economy, the rise of augmented reality and virtual reality, the growth of the internet of things, and the growth of artificial intelligence. These trends are expected to have a major impact on the way we live, work, and play in the future. And as we become more and more used to this new lifestyle, the global digital economy is primed for exponential growth on all fronts!